In 1966 the Chevrolet Camaro was introduced as a 1967 model. Thirty-five years and four generations later, the Camaro as we know it will cease to exist as a producion automobile. From the inception of the nameplate, it was designed to compete. Horsepower and handling were (and are) the foundstones for the Camaro's success. Today's 4th generation Camaro is a hybrid of old-fashioned Detroit muscle and the latest in technology. Computer controls and advanced logic systems control every pulse of the engine. However, as long as there's a "go" pedal on the floor the spirit will always be that of the first Camaro to roll off of the line in 1966.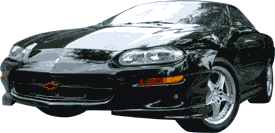 The ELITE/Geek Camaro Z-28 is equipped with a 346 cubic inch, 5.67 liter LS-1 Chevrolet V8. From the factory this machine is (under)rated at 305 horsepower. With
simple modifications and enhancements
the output is estimated to exceed 358 hp.