Those who dare accept the
Gumball 3000
's challenge must have nerves of steel, single-minded focus,and incredible stamina... being a little crazy sure helps, too. What fuels our drivers' passions? What makes them tick? What do they do when they're not under the hood or on the road? Here's the place to find out:
Gina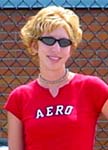 What are little girls made of?
Sugar and spice, and everything nice... like dark music, fast cars, and neuroscience.
Gina Marie Gehrke
is not your average little girl.
Duane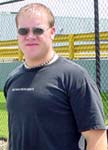 Fast and loud.
That just about sums up
Duane
's outlook in general.
Take a fistful of tried and true, old-fashioned brute force, mix in a healthy dose of the latest technology, add a little duct tape and a few washers and you have the recipe for success.